EvolveFM Software
Real Estate ownership and operating costs are typically second only to payroll in overall business operating costs. Facility management professionals are continually asked to do more work even though budgets continue to shrink. EvolveFM facilities management software will help you manage your facilities at the lowest possible cost.
Facility Management Software (CAFM / CMMS)

Powerful, intuitive, comprehensive Facility Management software that anyone can use... Without the big price tag.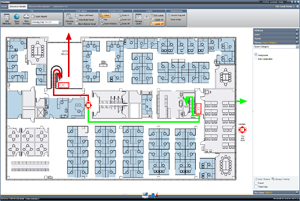 EvolveFM facility management software from CAFM Resources helps facility professionals achieve significant facilities related cost savings, giving them greater influence and personal credibility. EvolveFM provides real-time insight into available and used space, information that can be used to make better decisions faster.
Developed from the ground up to utilize the newest browser technologies, EvolveFM is the CAFM software solution that tackles the real challenges of managing your facilities information – including Access, Integration, and Distribution. EvolveFM is the most affordable, comprehensive, facilities management software tool available.
EvolveFM, Cost Effective Facilities Management
The job of a Facilities Manager has become much more demanding; there is more information to manage in the form of data and drawings, and a much greater need for faster, more accurate reporting capabilities. EvolveFM responds to the demand and is an easy-to-use, affordable tool for facility professionals. Some CAFM/CMMS systems can be very expensive technologies reserved for very large organizations that have the resources to invest in them. These systems tend to be very complex and as a result are often left underutilized or not used at all. EvolveFM is a much more affordable and an easier to use solution that competes functionality with systems 2x-5x its price. EvolveFM facility management software will help you work as resourcefully and cost effectively as you should be.
EvolveFM Training & Implementation

As an EvolveFM
certified implementation partner
, we work with each client on a one-to-one basis as we combine your
EvolveFM
software
training
with your EvolveFM system i
mplementation
.
---
Share EvolveFM Facility Management Software with your colleagues and friends.